Hitachi Systems is a leading IT service provider specializing in developing and implementing business systems for customers of diverse sectors and sizes. We also operate, monitor, and maintain those systems by using a multi-tiered service infrastructure comprising data centers, network and security operations centers, contact centers, and a nationwide network of around 300 service sites. Ever since the dawn of the Japanese IT industry, we have been at the forefront of the IT revolution, using our rich experience to provide end-to-end services ranging from consulting customers on their systems needs to designing, implementing, operating, and maintaining systems to operating a help desk, all with the goal of supporting customers' business management and day-to-day operations. Hitachi Systems assists customers with their digital transformation needs and works with them in creating new value by delivering unique services that leverage our diverse human capital and advanced IT solutions. We strive to become a global service company that earns the complete trust of customers.
Company Overview
Corporate Name
Hitachi Systems, Ltd.
Established
October 1, 1962
Capital
19,162 million yen
Head Office
1-2-1 Osaki, Shinagawa-ku, Tokyo
Representative
Masahiro Kitano, President and CEO
Business Description
System integration business
System operation, monitoring, and maintenance business
Network service business
Sale and development of information-related equipment and software
Number of Employees
10,249 (as of March 31, 2017, non-consolidated)
18,423 (as of March 31, 2017, consolidated)
Sales
(In millions of yen)

381,762 million yen (Fiscal year ending in March 2017 (non-consolidated))
455,516 million yen (Fiscal year ending in March 2017 (consolidated))

Note:
The numbers shown as consolidated net sales have not been audited by a certified public accountant. Consolidated net sales numbers are presented on an IFRS basis.
Our fiscal year runs from April 1 though March 31.

Sales by line of business
(non-consolidated, unit: million yen)
Approved Licenses and Certifications
ISO9001
ISO14001
ISO/IEC20000
ISO/IEC27001
Privacy Mark
COPC CSP standard
Construction industry license
Electrical installation notification (general-purpose electric equipment)
Electrical installation notification (household electric equipment)
Architect office registration
First category goods shipping registration
Warehousing business registration
Electro-communications business notification
Worker-Dispatching Business License
Advanced medical control equipment sales license
Antique business permission
National industrial waste permit
For details on the scope of certification, see this file (PDF, 172 kbytes).
Note:The names of the licenses and certifications have been translated in-house, and are not official.
Qualification holders (As of March 31, 2017)
Professional engineer (including assistant) : 30
IT strategist : 34
System architect : 137
Project manager : 111
Network specialist : 470
Information security specialist : 562
Applied information technology engineer : 1,689
Fundamental information technology engineer : 4,817
Project Management Professional : 1,086
AWS Certification : 117
Certified Information Systems Security Professional :44
Certified Information System Auditors : 9
Certified Information Security Managers : 2
GIAC Certified/Network Forensic Analysts : 2
COPC Registered Coordinators : 125
Certified Contact Center Professionals : 54
First-class architects : 5
First-class electrical work engineers : 58
First-class electrical work operation and management engineers : 136
First-class plumbing work operation and management engineers : 51
First-class building operation and management engineers : 36
VMware Certified Professional : 296
VMware Certified Advanced Professional - Data Center Administration :1
VMware Sales Professional : 1,538
VMware Technical Sales Professional : 1,130
Microsoft Certified Professional (MCP) : 3,712
Oracle certification : 3,393
Oracle Java certification : 792
Cisco certification : 944
SAP consultant certification : 687
ITIL Foundation : 4,374
ITIL Expert : 74
IT coordinator : 33
Positioning of Hitachi Systems within the Hitachi Group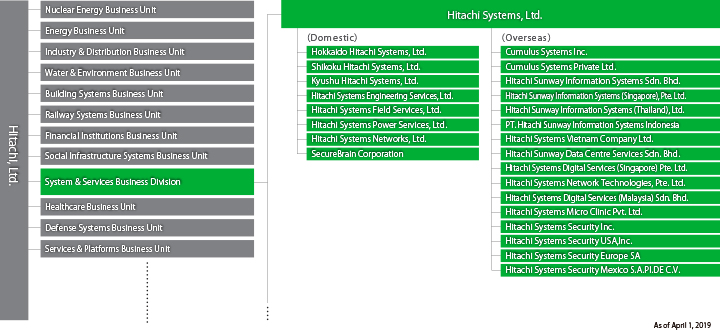 Enlarge Image(open in new window)
Hitachi Systems provides true one-stop services covering all areas of the IT life cycle: from system consulting, to building, installation, operation, and maintenance.