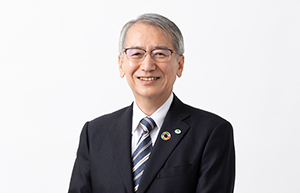 Many companies today face demanding and complex challenges of doing business in a global market and meeting diverse customer needs. They increasingly rely on digitalization that convert every piece of information into a digital format and on such leading-edge technologies as artificial intelligence (AI), Internet of things (IoT), and Big Data analytics to create new business models, achieve greater operational efficiency, and bring a better quality of life to the public.
Hitachi Systems has, ever since the dawn of the Japanese IT industry, been at the forefront of a changing business and has been providing IT support to customers of diverse sectors and sizes to assist them in their day-to-day decision-making and operations. Our strengths and assets lie in the experience and technical prowess we have amassed in implementing, operating, and maintaining a variety of business systems for our customers as well as in our service infrastructure that comprises data centers, network and security operations centers, contact centers, and a nationwide network of field service offices.
In this digital age, our job is to help customers transform their businesses, launch value-added services, and create new markets for innovative products and services. To do this job effectively, we must be more than just a provider of IT services̶we must have a deep insight into how customers run their businesses and become their trusted partner. Hitachi Systems assists customers with their digital transformation efforts and works with them in creating new value by delivering unique services that leverage our diverse human capital and advanced IT solutions.
As your closest and most loyal partner, Hitachi Systems will continue to meet all challenges to become a global services company that customers can rely on completely.
We sincerely appreciate your continued patronage and support.